Build, Run, and Expand Your Event Ecosystem
Stova's end-to-end solutions and event management platform technology enabled services have the power and flexibility global enterprises need and the scalability that event organizers love.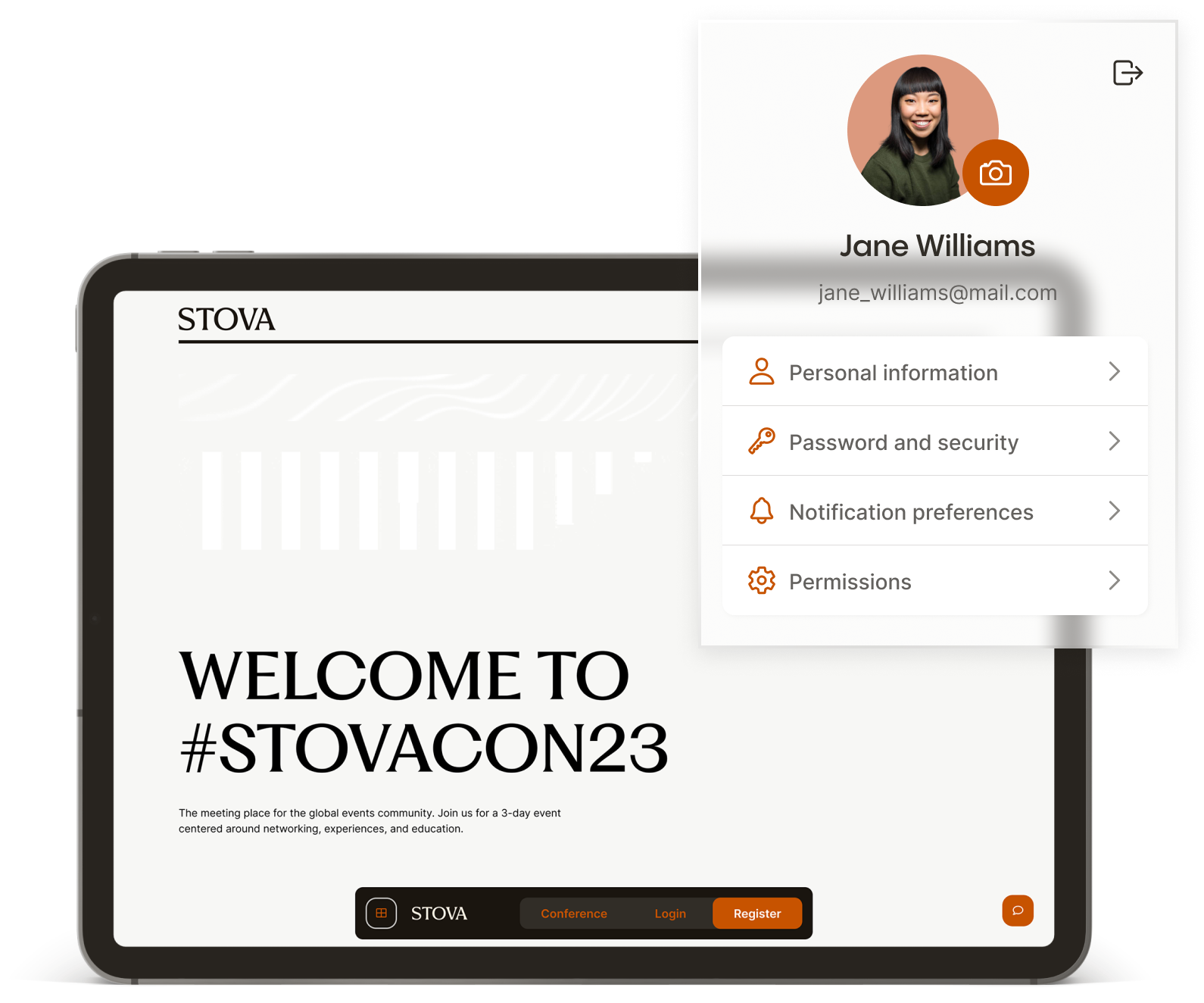 Bring your events to life the way you imagine them. Leave nothing to chance with the all-in-one platform global organizations choose to engage audiences of all sizes and engagement levels.
Simplify Your Event Planning Experience
Stova uses smart technology to increase event attendance at all levels. We build customized solutions with you, to grow your brand and engage your audience.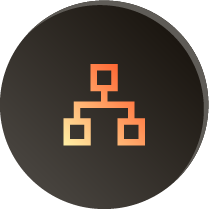 Simplify Event Management
Streamline event planning and management with Stova. Eliminate multiple points of contact with our all-in-one, centralized event management platform.
Stova's creative technologists assist you in using tools to gauge performance and respond to real-time data. Understand the attendee journey for in-person and virtual attendees.
Stova's award-winning event management platform, technology, and services platform helps manage high-volume, repeatable events with ease. Connect directly with your attendees, introduce captivating, branded experiences, and measure impact with a single-point solution.
Plan Your Event
Manage the entire venue selection and procurement process from one dashboard, with powerful tools for procurement, negotiations, communications, reporting, and booking.
Build Your Audience
Deliver a breathtaking first impression with our event website builder. Create a custom branded website to showcase and promote your event, easily. Also run effective email marketing campaigns to promote your events, expand your brand awareness, and fill your events with the right attendees.
Deliver Your Event
Create amazing virtual and hybrid experiences for any event with features that include live & on-demand streaming, branded event lobbies, and community moderation. Take the burden out of in-person events by eliminating lengthy check-in process with our rapid check-in and badge printing solutions.
Capture Attendees
Improve event registration processes by leveraging Stova's easy-to-use, integrated registration solution, designed for events of any size. Deliver a seamless, branded registration experience, and integrate your invite lists with multiple CRM and marketing automation platforms.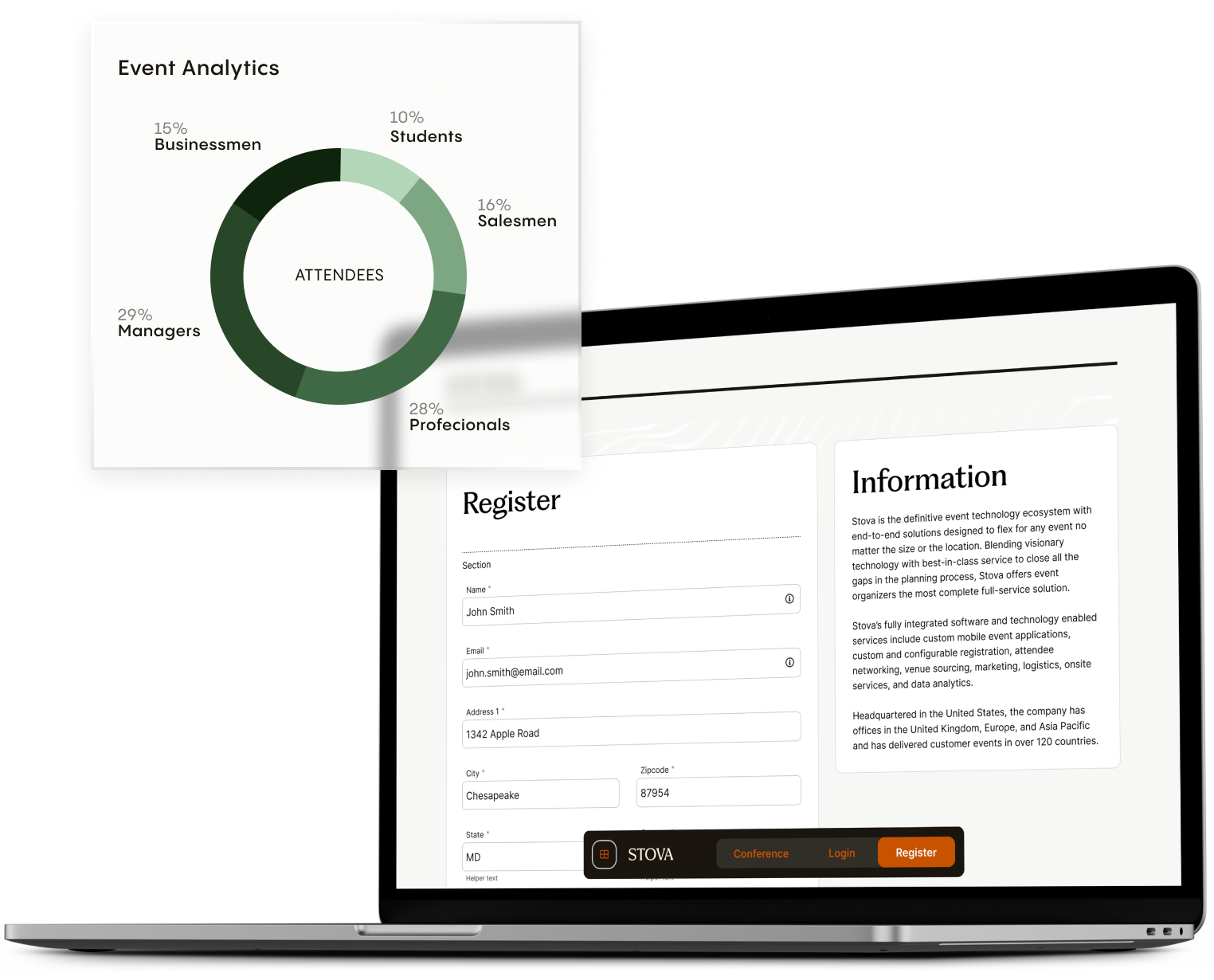 Deliver ROI for Every Event
Plan, measure, and track your events with Stova's end-to-end event management platform, technology, and solutions enabled services.
Manage Sponsors & Exhibitors
Automate communications, task, content collection and approvals within one exhibitor portal. Eliminate manual workarounds with one dashboard.
Qualify Leads in Real-Time
Enhance lead generation efforts with qualified leads across your events portfolio with data sharing and touchless lead retrieval.
Analyze ROI and Event KPIs
Gauge event performance with advanced reporting across your portfolio to make better-informed decisions with real-time dashboards. Your reports can be customized to highlight key information important to your internal stakeholders, and then integrate data from Google Analytics, HubSpot, Salesforce, Marketo, and more.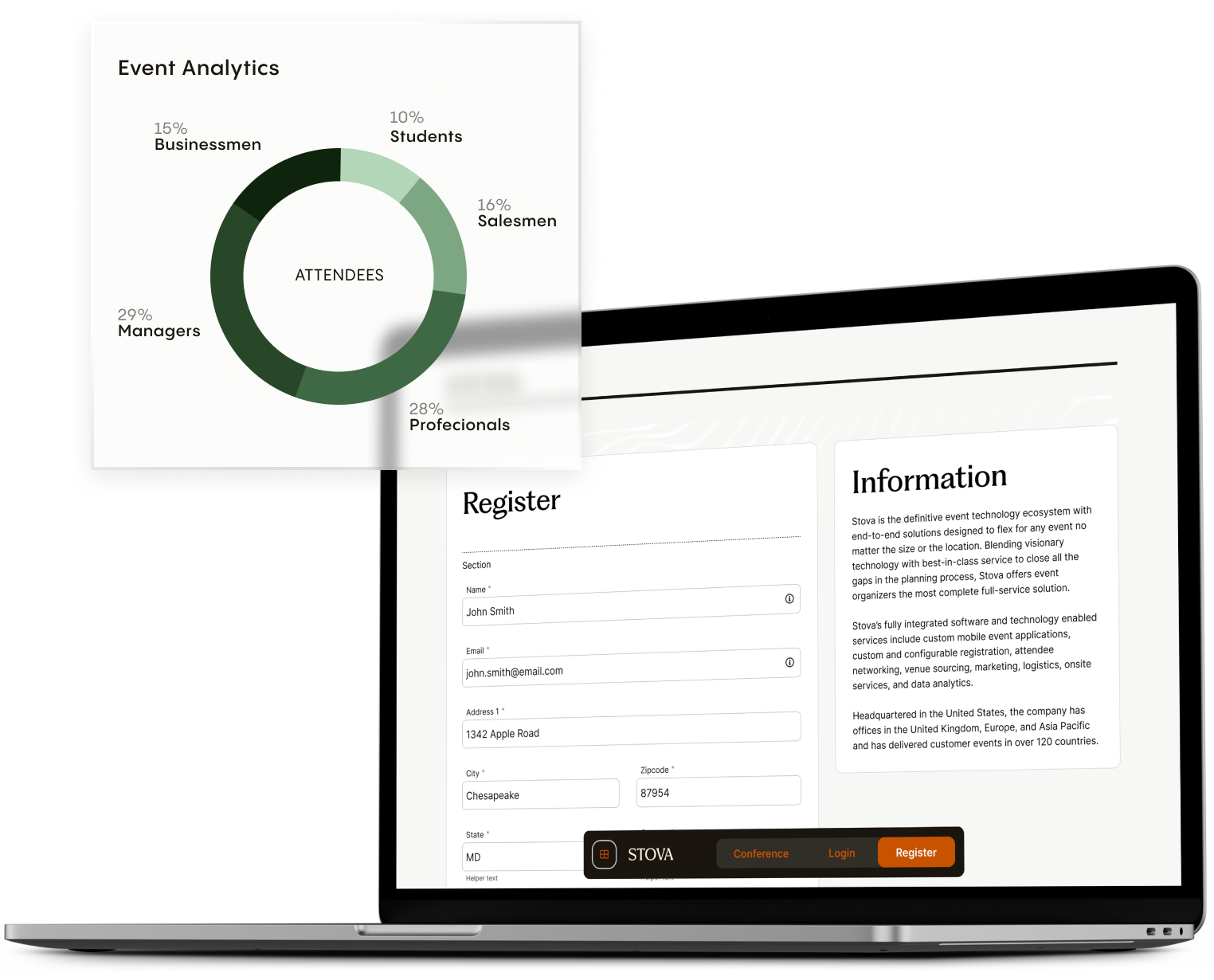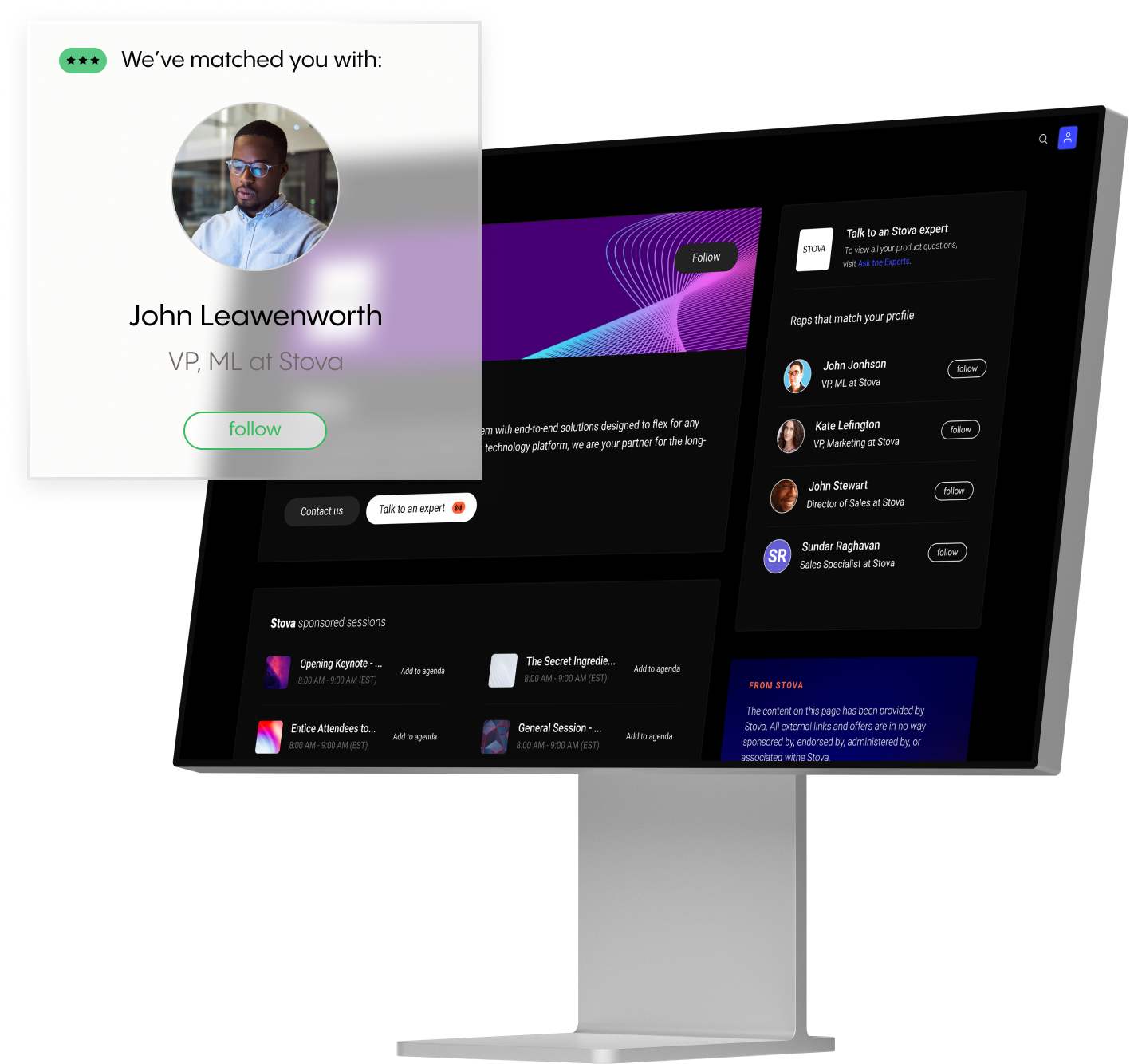 Drive Attendee Engagement
Create memorable experiences with interactive attendee experiences using Stova's event management platform.
Connect Attendees
AI powered matchmaking connects like-minded individuals and fosters community within your event, turning your attendees into your very own brand community
Scale Communications
Integrate messaging tools and responsive chats, bring your attendees together with one-on-one messaging options, and deliver push notifications in real-time.
Gamify Events
Increase engagements by encouraging your audience to chat, network, and share photos on social walls. Award points for connecting with exhibitors, viewing on-demand content, and checking in to sessions.
Find Support When You Need It
Stova's team of experienced event strategy and technology professionals will help guide you through every aspect of your meetings and events.
Train with Stova's Managed Services Professionals
Obtain one-on-one or group training from Stova's skilled creative technologists. Learn how to navigate our end-to-end event management platform and build your event to your unique goals.
Witness the Power of a Partner
Event strategy consultants provide the best solutions for your event and help you understand event data to drive positive results. With support available 24/7 globally, we are a partner in your events, no matter what issues may arise.
Discover the Definitive End-to-End Event Management Software
Dive into DIY or Enterprise Event Registration
Design registration workflows and effectively manage travel, hotel, badges, certificates, invitation creation and reporting.
Witness the Power of Virtual & Hybrid
Save time and enjoy the flexibility of a fully integrated virtual event platform. Plan, promote, analyze and execute all your virtual, hybrid and in-person events.
Hold Your Event in Your Hands
Maximize networking and engagement by providing attendees with an award-winning smart badge and mobile app.
Excite Attendees from the Beginning
Create event email campaigns that allow you to analyze, track and benchmark performance across your event portfolio.
Integrate Seamlessly
Connect with best-in-class software providers through our integrations. Our API enables custom integrations for additional flexibility, allowing you to utilize Stova's end-to-end solutions or use your current event technology stack.
Whether your event is virtual, hybrid, or in-person, enhance your attendee's journey with an event ecosystem built for your audience. Ready to walk through Stova's event technology solutions? Schedule some time with us today.
Thought Leadership from the Event Professionals