One Platform.
Endless Brand Potential.
Create amazing, immersive virtual experiences for any event. Stova's virtual and hybrid event technology elevates your audience experience and puts your attendees in the front row.
Create Immersive Online Experiences That Engages Attendees 
Streamline Event Planning
Increase efficiency by automating and integrating time-consuming tasks by leveraging the array of tools in our integrated event management solution for virtual & hybrid events.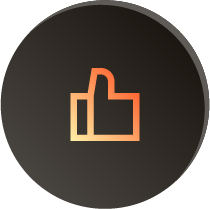 Bring your brand to life with custom virtual or hybrid event experiences for each key attendee touchpoints, from registration to event marketing campaigns, websites, and more.
Gain real-time event insights with mobile apps, badging, and check-in solutions that collect valuable data to help you better engage your attendees.
Deliver Engaging
Hybrid and Virtual Events
Stova's event ecosystem streamlines your virtual and hybrid event by delivering bespoke solutions built with your unique goals in mind. Your event, made epic.
Empower your Audience with AI-Matchmaking
Connect with like-minded individuals who share your interests and access content curated just to your tastes.
Connect with One-on-one Video Calling
Seamlessly connect with event attendees through one-on-one online conferencing to start or continue individual networking.
Socialize & Network with Peers
Network with event attendees through community-rich features like the Social Wall and Photobooth.
Find Like-Minded Event Professionals
Choose your topic of interest and join groups of event professionals around popular conversations.
Produce and Deliver Bespoke Content for Every Audience
Engage your attendees through multiple content delivery options using Stova's virtual and hybrid event technology. Invite your attendees to stream your event live or on-demand from anywhere in the world.
Livestream
Build the ultimate excitement for opening sessions and keynotes with Stova's live streaming format, for audiences of any size.
Pre-recorded
Create on-demand sessions with live chat, polling, and more, all without the need for a live presenter.
Simu-live sessions
Get the benefits of a live and pre-recorded session all in one. Schedule pre-recorded presentations and interact with your audience live as the content plays.
Collaboration
Host breakouts, roundtables, and training sessions with enhanced screen sharing, collaboration, and other exciting attendee engagement tools.
Attract and Engage Attendees at Every Step
Promote and communicate with your target audience with our virtual and hybrid event technology, enabling you to create a streamlined workflow for your team and produce exceptional experiences at scale.
Manage Your Event
Our event management software covers every step of the event journey from email marketing, event registration, attendee surveys, and more.
Deliver Personalized Experiences
Inform and engage attendees with a mobile event app that gives your attendees access to view their personal agendas, read speaker bios, message one another, make in-app purchases, and much more.
Tailor Your Content
Gain event visibility and awareness by creating a tailored online presence with a dynamic event website that fully aligns with your brand and resonates with your attendees, exhibitors, and sponsors.
Encourage Brand Trust
Expand brand awareness, promote your meetings and events, and target the right audiences by creating email marketing campaigns.
Maximize Value for your Sponsors & Exhibitors
Enable sponsors and exhibitors to connect face-to-face and easily convert leads with Stova's advanced virtual and hybrid technology solution.
Monetize your events
Offer paid prime real estate for sponsors, from sponsor listings to more robust advertising placements.
Excite your Exhibitors with Dedicated Exhibitor Management Software
Boost your productivity with fully integrated exhibitor management software solutions.
Capture Qualified Leads
Empower your exhibitors and sponsors with a simple and robust mobile app to capture, qualify and follow-up with leads.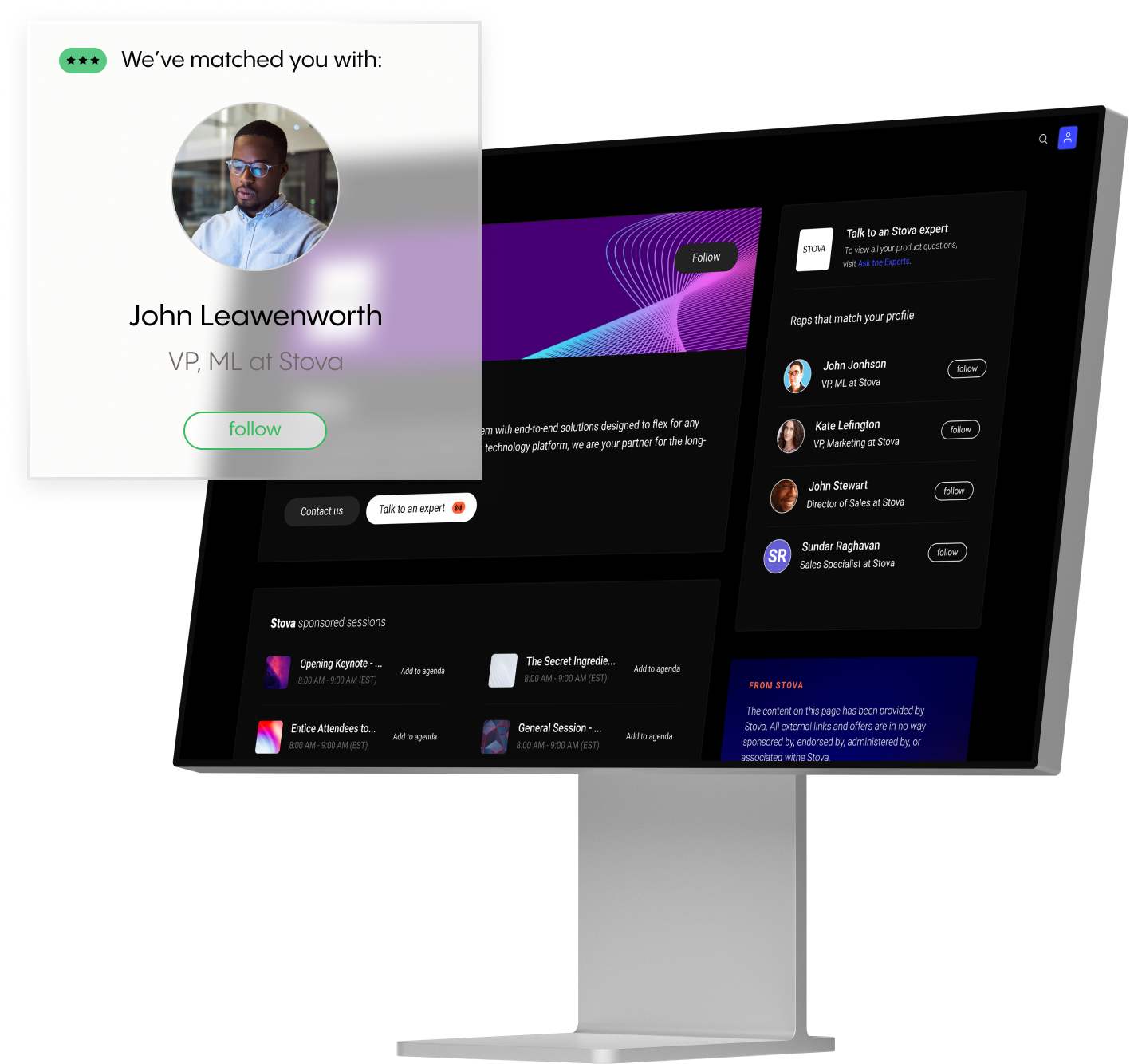 Understand the true impact of your brand strategy with Stova's powerful data, analytics, and reporting tools within our virtual and hybrid event technology solutions.
Capture Data
Data is captured at every point throughout an event. Export and compare reports to tell the story of your events with robust data to support them.
Visualize Results
Visual dashboards provide you with greater transparency and actionable insights to improve your event performance.
Create Custom Dashboards
Run reports across all attendee touchpoints including registration data, live and virtual session details, email marketing data, and more.
Our team of dedicated project leads are accountable at every step to ensure the success of your event – from pre-planning to end-of-show analysis – together as one team, we work with you to create impact. 
Find Unmatched Service
Skillfull onsite support specialists are on standby to fix any onsite technology issues that you may have, including check-in & badging, lead retrieval, and session & access control. Remote team members help facilitate your online events and session launch process by assisting with speaker setup and troubleshooting any real-time issues that come up.
Train with Stova
Make the most out of using our event management technology with dedicated, focused training from our Professional and Managed Services team.
Whether your event is virtual, hybrid, or in-person, enhance your attendee's journey with an event ecosystem built for your audience. Ready to walk through Stova's event technology solutions? Schedule some time with us today.
Thought Leadership from the Event Professionals