Unforgettable Events Crafted for Unrelenting Brands
We partner with visionary brands to bring your unique event goals, ideas, and experiences to life with our award-winning, tailor-made enterprise event management and technology solutions that are catered to your company's vision.
Bespoke Solutions Curated to Address Your Unique Event
Deliver a mobile-responsive registration experience that fully aligns with your brand. Create positive first impressions with streamlined check-in for the most complicated attendee tracks coupled with cutting-edge badge technology and 24/7 customer support.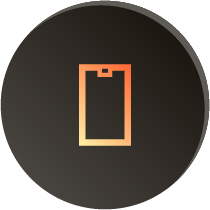 Create a customizable mobile event application that enhances the attendee journey, promotes connectivity, and promotes sponsors and exhibitors. Your event, elevated to your bespoke brand standard.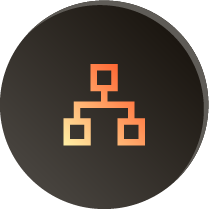 Run effective email marketing campaigns that reach the right attendee, integrate seamlessly into your CRM and other marketing automation software, and create a cohesive, enhanced technology ecosystem for attendees.
Boost Onsite Activations with Bespoke Enterprise Technology
Discover enterprise event management platform technology and onsite solutions unique to your event and designed to increase attendee engagement, deliver valuable metrics, and give your attendees and partners peace of mind.
Expedite Event Check-In
Touchless check-in gives your attendees freedom to choose their own adventure. Their registration information is integrated seamlessly into Stova's onsite technology, allowing for a problem-free check-in experience.
Upgrade Attendee Badges
High-quality, customizable badges using NFC, RFID, QR, or facial recognition technology deliver the look and feel of a high-end, luxury event, true to your brand.
Track Sessions & Measure Data
Measure and track necessary data throughout your event. Session tracking delivers real-time data to your custom dashboard, so you can ensure lines are moving, sessions are full, and speakers and sponsors are happy.
Capture Qualified Leads
Stova's touchless lead retrieval drives qualified leads to the sponsors and exhibitors that matter to them. With smart matching technology, sponsors can qualify leads as meetings happen, sharing the results that matter with your stakeholders and sales teams.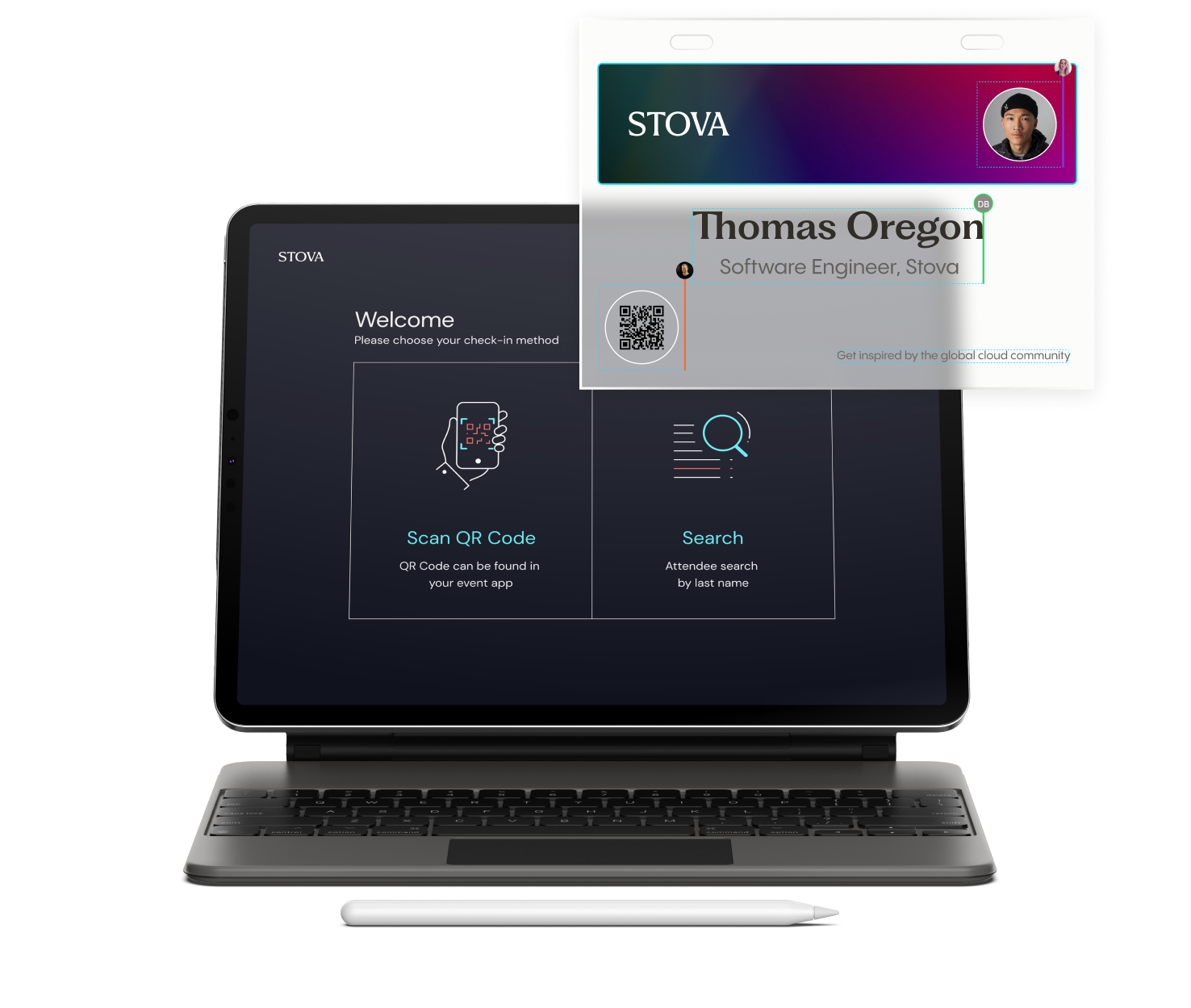 Customize the Registration Experience
Built to eliminate manual workflows for the most complex registration requirements, Stova's enterprise event management and registration technology are tailor-made to your exact specifications.
Automate Workflows
For complicated event tracks and speaker agendas, Stova's registration software is built to withstand multi-day events, simultaneous sessions with global attendees.
Integrate Venue Sourcing and Hotel Reservations
Ensure your VIPs and speakers are taken care of from the first click. Offer premium rooms to VIPs, add to agendas, and automatically email confirmations within your event technology ecosystem.
Collect Fees Securely
Stova's event technology is safe, secure, and guarded with three levels of compliance to keep your attendee's data uncompromised.
Upgrade Onsite to Unforgettable with Custom Mobile Event Apps
Built to your event's specifications, Stova's enterprise event management technology and mobile event applications are designed to support your unique goals for the most complicated event tracks.
Elevate Registration & Check-in
Utilize touchless technologies to streamline onsite registrations and badge printing. Keep your check-in lines moving and your attendees happy.
Enhance Matchmaking & Networking
For both attendees and sponsors & exhibitors, power your networking with AI and machine learning capabilities. Ensure the right attendees meet with sponsors that they want to hear from, every time.
Create Meaningful Agendas
Allow your attendees to build out their agendas, even for the most complicated schedules. With enabled notifications, directional mapping, and note-taking capabilities, your attendees hold the power of your event in their hands.
Excite with Gamification
Your event, your engagements. Offer prizes for scavenger hunts, networking, chats, and more. Build your games to your specifications. No idea is too grand.
Keep Attendees Watching
In a multi-track event, your attendees may need to pick and choose which track they want to follow. With an on-demand session library, your attendees stay engaged with your mobile application and never miss a session.
Showcase Virtual Events that Break the Mold
No matter what you envision for your event, our custom virtual solution empowers you to create an event everyone will remember long after the last session ends.
Unify Registration and Your Custom Virtual Platform
Feature your brand across the attendee journey, from full branded registration websites to a tailor-built virtual solution that captivates audiences.
Personalize Agendas, Customize Experiences, and Capture Audiences
AI and machine learning enhance the attendee journey by giving attendees real-time notifications, assisting in building out their agendas based on peer reviews, and connecting them with attendees and sponsors they actually want to meet.
Deliver Engaging Attractions
Gamification and social networking are just the beginning. Your dedicated creative technologist will assist in finding engaging gaming options that mold to your brand, attract, and engage attendees. One-on-one video calling, chat features, and so much more, built for your specific KPIs.
Watch Any Time, Any Where
On-demand libraries put your attendees in the driver's seat and keep engagements high, platform wide. With videos available 24/7, your attendee can watch sessions at their leisure, and then go back for more.
Analyze Data at Every Stage
Event intelligence provides aggregated totals for your event, sessions, and sponsor reporting. These detailed data reports allow your team to drill down into attendee dwell time, viewership, and so much more, customized to your unique KPIs and event goals.
Market Your Event with the Experts
Stova's technology enabled services bring your Enterprise events seamlessly through the entire event cycle, including event marketing solutions.
Drive Demand with Enhanced Tools
Completely brand your event website to drive registrations, target qualified leads, and reach attendance goals.
Elevate User Experiences
Sophisticated agenda tools elevate the experience by automating workflows, integrating with your current CRM or marketing automation software, and notifying your attendees in real-time.
Deliver Results In-Event
Drive engagement pre, during, and post event with email marketing campaigns built to your specifications, ensuring your attendees stay informed throughout the event journey.
Look for a Partner in Events, Not Just a Platform
Stova's skilled event professionals focus on the technology allowing you to focus on your attendees.
Strategize & Analyze Your Event
Stova's Managed Services team is on stand-by to assist you, from building your branded registration websites to analyzing post-event data.
Support When You Need It Most
Our onsite team stays with you throughout the event process, at the venue to assist in any troubleshooting or hardware issues from badging to mobile event applications. We are here for you.
Train with the Professionals
Empower your internal teams. Stova's Managed Services teams are available to train your team on our products, giving you flexibility and know-how to successfully run every event.
Whether your event is virtual, hybrid, or in-person, enhance your attendee's journey with an event ecosystem built for your audience. Ready to walk through Stova's event technology solutions? Schedule some time with us today.
Thought Leadership from the Event Professionals