Showcase Elevated Events for Investors
Engage, inform, and excite potential investors with end-to-end event technology solutions that assist you in covering key points of your business.
Inspire Investors with Elevated Event Management
Stova's products and services give you the power to flex no matter the size, location, or complexity of your event. Boost brand recognition with high-end events from registration to post-event marketing.
Your VIP experiences need more than an off-the shelf solution. The combination of cutting-edge technology with best-in-class consulting provides bespoke event solutions curated to your event.
Spend more time with your VIPs and leave the event technology to your platform partner. With 24/7 support every day of the year, globally, ensure event success.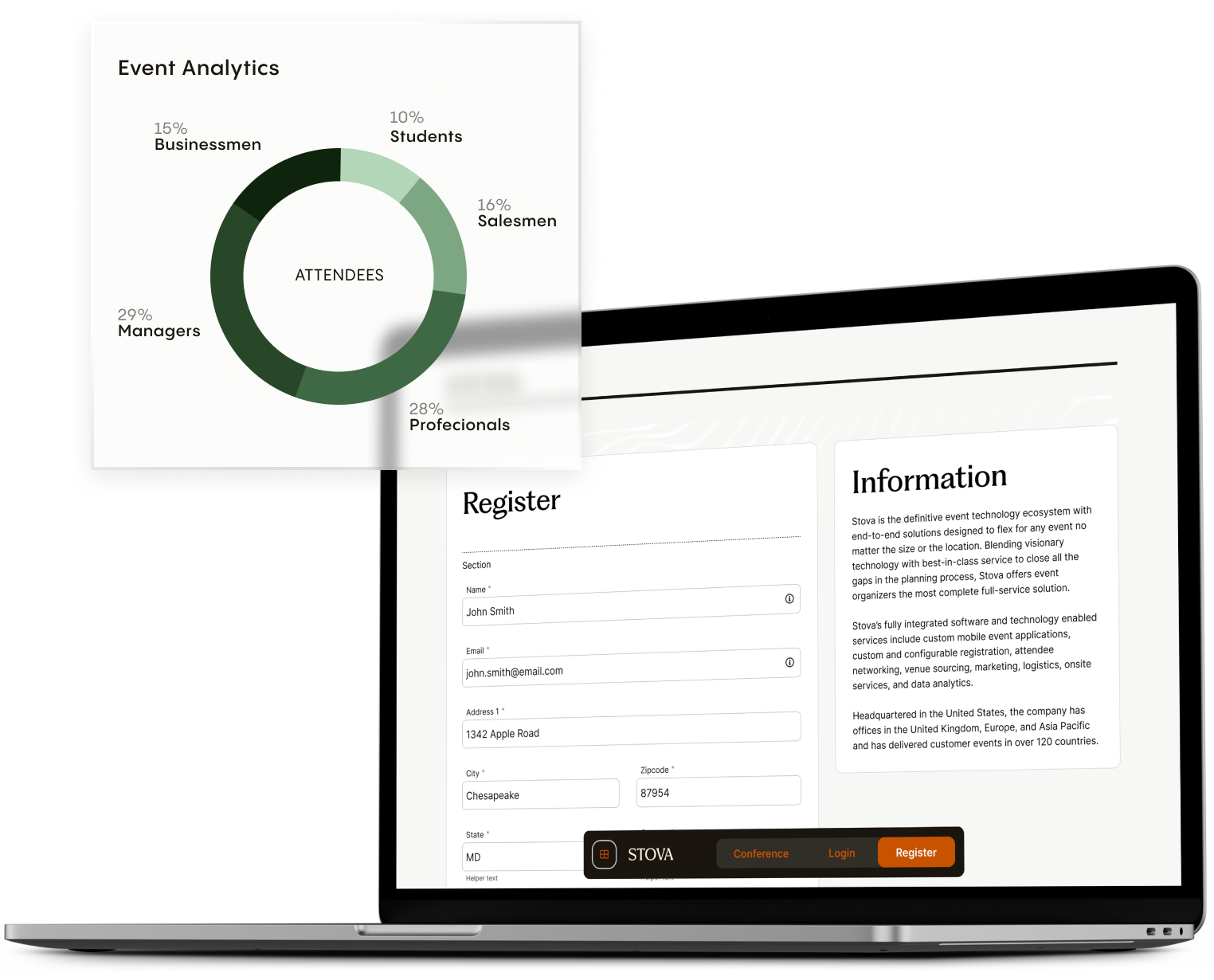 Invest in Registration that Works for You
Eliminate manual workarounds with our bespoke registration solutions. For most complicated event tracks and speaker agendas, exacting data requirements or complex registration workflows, our fully branded conference and event registration solutions are built to your specifications.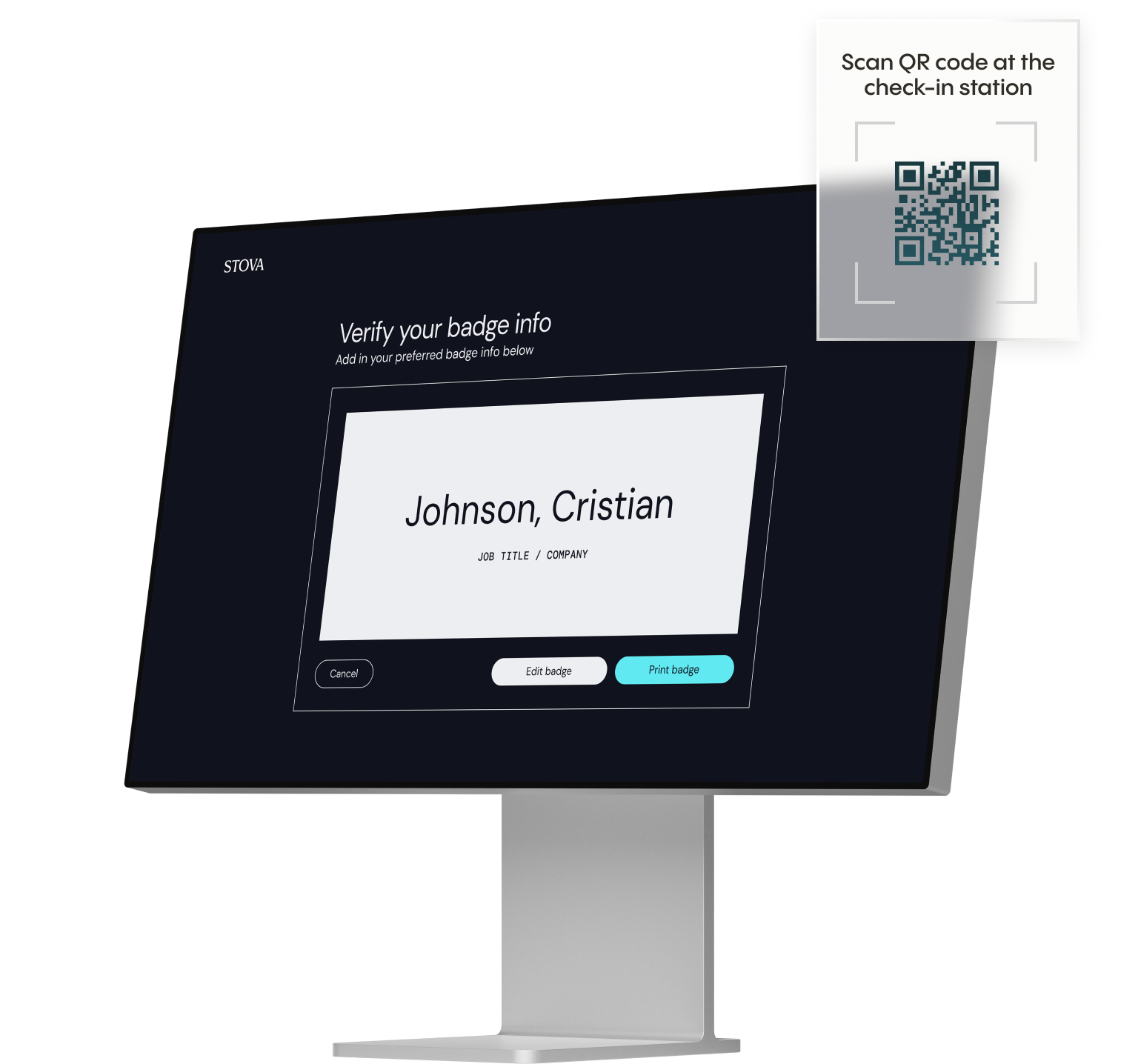 Upgrade Onsite to Unforgettable
From custom mobile applications to bespoke onsite solutions unique to your event, design a meeting that delivers the valuable metrics that matter to you.
Personalize Registration
Give attendees the VIP experience with a custom branded registration website, allowing you to link your stakeholders to an experience worth registering for.
Expedite Check-In
Stova's check-in solutions integrate seamlessly with your registration platform, giving attendees the option of QR code or facial recognition check-in. We also have solutions for off-site self-check-in with kiosks to use in airports or hotels.
Secure Payments
Offer peace of mind when attendees book hotel reservations through your registration website. Always secure, always on, Stova protects your client data.
Increase Attendee Engagement
Your event mobile app can do more than check in attendees. Onsite technology bridges the attendee to sponsor and exhibitor gap with smart matchmaking, connecting your audience with each other and with relevant sponsors.
Deliver Valuable Metrics
Unique dashboards on the Stova platform allow your stakeholders and investors to view budget, attendee count, and dwell time, easily. Then, export the data and share with external team, if necessary.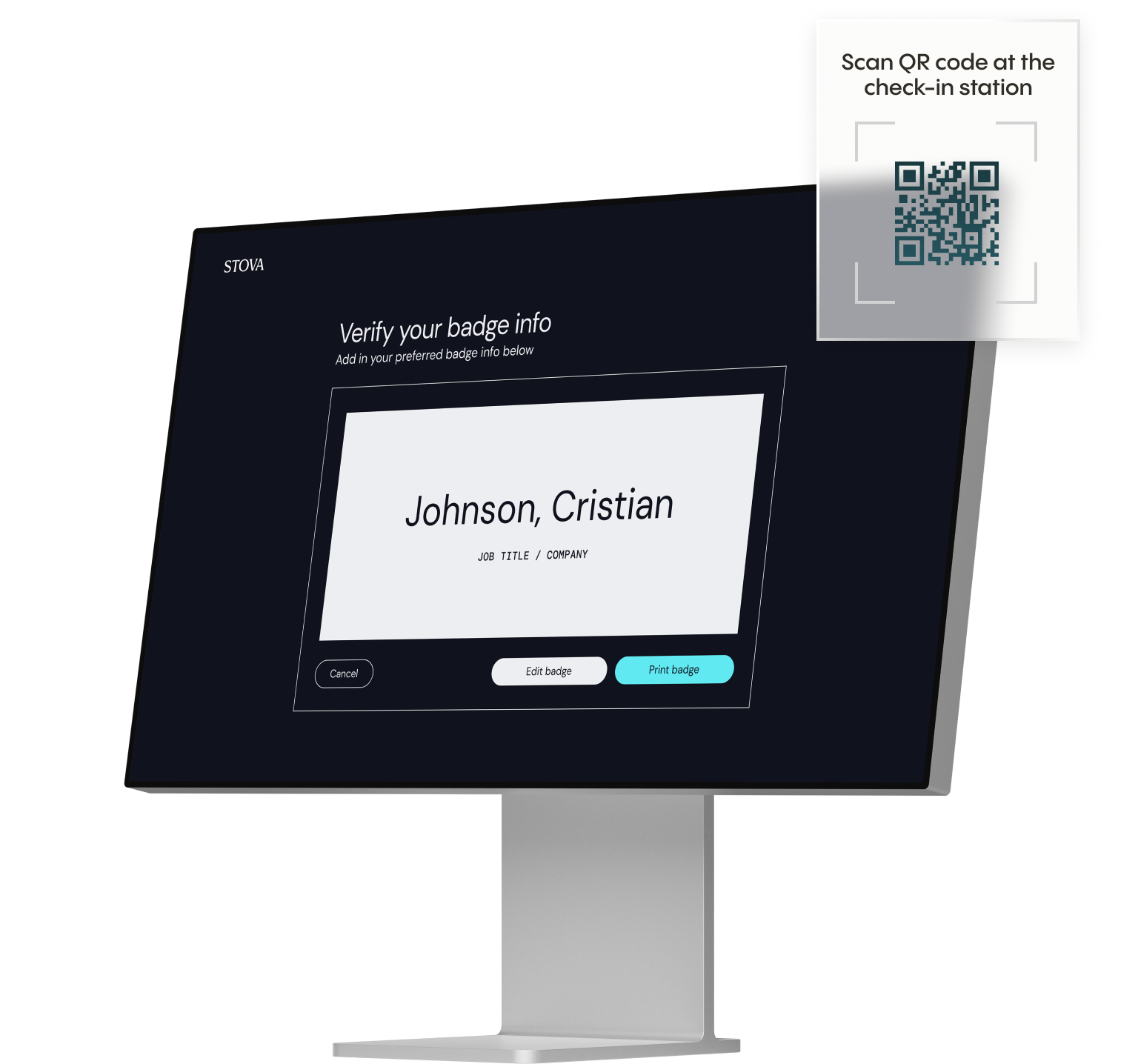 Enhance Virtual to Remarkable
Our custom virtual solution empowers you to create an event everyone will remember. Increase visibility for your brand, build brand loyalty, and increase brand trust with a technology solution that's more than a platform, but a partner in the process.
Bridge Attendee Gaps
Your virtual stakeholders want to feel the same as your onsite audience, with the bells and whistles too. Stova's end-to-end technology enables your global attendees to be a part of the show, with language options, geography enabled sessions, gamification with local peers, and networking between onsite and online audiences.
Deliver Engaging Content
Engage your stakeholders and investors through multiple content delivery options, including live on-camera Q&A sessions, collaboration & networking, live streaming, and more. Enhance the experience by going above and beyond your attendees' needs.
Plan Your Meeting, Securely
Stova's Managed Services are with you every step of the way. Our creative technologists help you discover the full bandwidth of the Stova all-in-one event management solutions that support your event goals. Drive future decision making with a partner, not a platform.
Whether your event is virtual, hybrid, or in-person, enhance your attendee's journey with an event ecosystem built for your audience. Ready to walk through Stova's event technology solutions? Schedule some time with us today.