Future of Networking: 5 Ways to Drive Stellar Connections among Attendees in 2024
Networking is the cornerstone of successful business events.
It provides a platform for people to connect with potential customers, partners, and investors. Networking is how professionals gain the knowledge they need to take projects to the next level and accelerate growth.
While planning a networking event is rewarding, the job also poses challenges. How do you facilitate meaningful connections? Could interactions be even more impactful? What are the best ways to foster a sense of community?
This article explores the latest networking technology and trends that are transforming how professionals engage and connect. You'll also get five proven best practices to help attendees build meaningful connections in 2024 and beyond.
Evolution of Networking
In the past, networking and education were the twin engines powering successful business events. Attendees gathered to make connections and gain insights from knowledgeable speakers.
But today, with the profusion of online content, people can learn from experts without leaving home. Networking is now the main driver of in-person event success.
Industry expert Julius Solaris highlighted the "new rules of event networking" on LinkedIn in June 2023.
"Connection is the name of the event game in the '20s," he said. "You can't leave connection to chance. Attendees are craving more opportunities to network. Not as easy as you think. Events need to think networking first to win these days."
Fortunately, networking technology lends a hand. These five strategies below leverage the latest tools to help you foster the meaningful connections your attendees crave.
#1. Start early: Amplify in-person with virtual networking events.
With in-person conferences back in full force, demand for full-day online business events is down. But interest in shorter gatherings is strong.
The virtual event market is expected to grow more than 20% annually, reaching $617 billion by 2030.
This format reduces travel costs and environmental impact. It also allows for greater accessibility and inclusivity, enabling people around the world to connect with ease.
Pro Tips
For big annual trade shows and conferences, facilitate pre-event networking online. Attendees can get conversations started in the virtual world and then meet onsite to deepen connections.
Start by creating an online community exclusively for conference registrants. Your platform should enable them to create profiles, list topics of interest, and schedule or join meetings.
Let your virtual platform be a pre-conference gathering place where attendees engage in conversations based on mutual interests and business challenges. Members can post topics, ask questions, and share ideas.
Another benefit of pre-event digital networking is it creates valuable user-generated content. Notice what attendees like to discuss. People come together around topics they're passionate about. Leverage these insights to create meaningful, interest-based networking opportunities at future events.
#2. Hyper-personalize networking with event analytics.
If you want to know your attendees better, data analytics is key. These solutions track attendees' behavior and provide real-time insights into their interests.
Understanding attendee preferences is more crucial than ever.
Why? Because during the pandemic, virtual events showed the importance of using data to customize experiences. Now, attendees expect the same level of personalization at physical events.
The trouble is event data has been challenging to gather offline. But here's the good news…
Modern event tracking tools – like event apps, digital badges, and iBeacons – make data capture a breeze.
Event analytics is like Netflix. It monitors onsite activity passively and provides a real-time reading on attendee preferences. When attendees opt in, the technology delivers valuable insights, such as:
What sessions do attendees check into?
How long do they stay?
What questions do they ask?
How do they rate speakers?
What experts do they want to meet?
Pro Tip:

Use this event intelligence to recommend connections and tailor networking opportunities to specific audiences based on their interests. You'll rocket attendee and exhibitor satisfaction and make them eager to return for next year's event.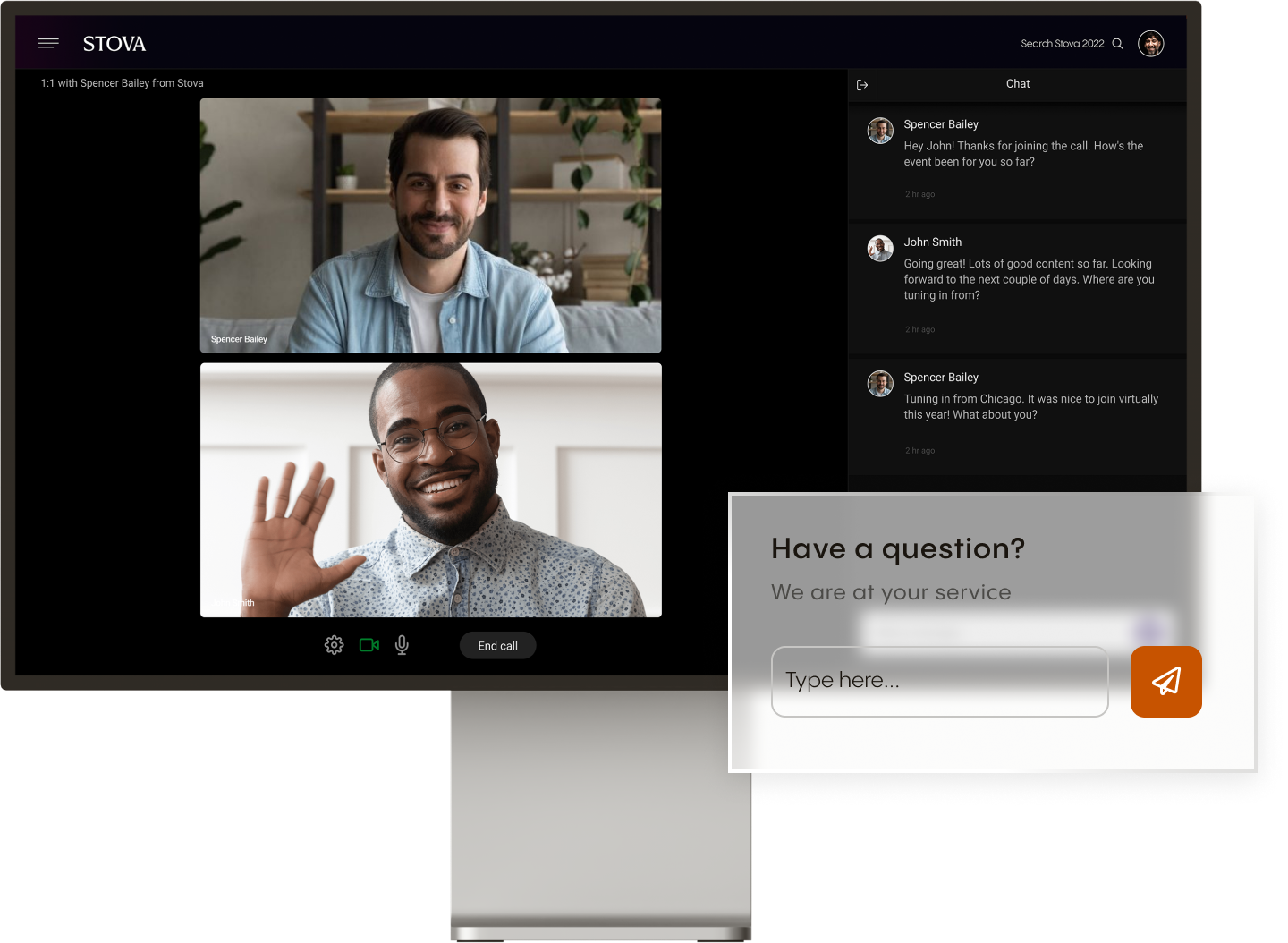 #3. Take advantage of AI in networking.
Artificial intelligence (AI) and machine learning (ML) are powerful technologies to drive deeper, longer-lasting connections.
AI Networking Technology
From Shopify to Alexa and ChatGPT, AI is transforming our personal and professional lives. Networking is no exception.
Similar to the way social media suggests new connections, AI event matchmaking connects eventgoers who share interests, industries, and other specified criteria. This sets the stage for more meaningful conversations.
For instance, AI algorithms match investors with startups based on the event goals they enter on their registration forms.
Smart matchmaking also connects attendees and exhibitors who have mutual interests. These quality leads translate into focused meetings that drive business growth.
Pro Tip:

Don't limit AI networking to 1:1 interactions. Design algorithms to recommend group meetings as well. You'll encourage a broader exchange of ideas and help attendees expand their professional business networks.
Machine Learning in Networking
For large events, ML helps ensure no one gets lost in the crowd.
As mentioned, AI-powered data analytics captures clicks, check-ins, ratings, profile views, meeting requests, and more. This business intelligence helps you identify attendees' interests in real-time.
ML takes personalization to the next level. It crunches the data and predicts where attendees will want to go next based on their past behavior.
As attendees engage with the event, ML-driven recommendations
get smarter, reflecting people's interests as they evolve.
Pro Tip:

ML analyzes vast amounts of data across multiple events with incredible speed. Delight attendees and sponsors with insightful recommendations for connections that might otherwise remain hidden to large audiences.
#4. Enhance your events with a "networking first" mindset.
Foster meaningful, long-lasting connections with these tips and tools below.
Expand networking opportunities with your mobile event app. An event app is the Swiss Army knife of networking. It keeps everything organized in one place.
Depending on your event app features, attendees can get networking recommendations, view profiles, private message eventgoers they want to connect with, and schedule meetups – all with one handy tool.
Host microevents within large shows. Encourage interactions via small workshops, fishbowls, and roundtable discussions. Participants can choose their experience. Then, they can learn new skills, showcase their expertise, and forge relationships around common interests.
Mobilize your event app for attendees to ask questions at larger presentations. Give voice to introverts and attendees who don't enjoy speaking in front of large groups.
Level up contact info exchange. Business cards are static and easy to lose. Why not use digital badges instead? They let attendees exchange contact details with the push of a button. Dynamic badges integrate with your event app. Attendees can add notes, prioritize leads, and customize follow-up in mere minutes with everything they need at their fingertips.
Create networking hubs away from your main event, where folks can gather and talk. They can share ideas 1:1 or message like-minded connections for spur-of-the-moment meetups around topics they're passionate about.
Bring people together for fun activities like cooking demos, wine tastings, networking bingo, tai chi, cornhole boards, and performances by talented local bands. Then, pump up engagement with a social media event wall.
Social media walls are feeds of user-generated content from social channels. They display real-time updates on giant digital screens. Event walls create natural gathering places complete with lively conversation starters. Attendees can share photos and videos with your event hashtags and be featured on the social wall.
#5. Keep conversations going.
The last session has ended, and everyone has gone home. But that doesn't mean the networking stops.
Continue the conversation with post-event digital networking. The best virtual conference platforms make connecting easy with tools for messaging, meeting scheduling, matchmaking, and real-time language translation.
You'll foster long-lasting, meaningful connections for your attendees, sponsors, and brand with interest-based virtual networking setting the tone for IRL events.
The Future of Networking Is Now
So now you know how to plan and host successful B2B networking events in 2024. Networking is why attendees come to events. To deliver the experience they want, make the most of networking technology like virtual platforms… event intelligence… and AI networking. You'll help attendees create business opportunities, deepen knowledge, boost authority, and spark innovation in the coming year and beyond.
Want to learn more about the future of networking and other trends that are transforming our industry and opening the door to new opportunities?
Download our latest white paper with Skift Meetings, "The Planners Guide to Proving ROI at In-Person Events."
Whether your event is virtual, hybrid, or in-person, enhance your attendee's journey with an event ecosystem built for your audience. Ready to walk through Stova's event technology solutions? Schedule some time with us today.